Okay, so here is the trend—only publicize your wins, accentuate the highlights, and by all means, hide all mistakes and flaws; but, trends, just like rules, should be broken sometimes.  Now, if you knew my husband and I, say, ten years ago, you would have probably labeled us as financially successful.  Were we wealthy?  No!  We weren't anywhere close; but, we did a few good things right.  By our early thirties, we managed to save enough to purchase a home, we owned our cars outright, carried very little debt (outside of student loans) and was able to consistently pay our bills.  Those were "the highlights"!
What we didn't display, but can clearly calculate now, (being some ten years removed), is the ridiculous amount of money we wasted!
The reason for our new understanding?  Well, the answer is multi-faceted, however, the underlying answer is this: what  we do religiously now, that we didn't do then, is account for every penny going out and coming in. Simple!  Well, not exactly, but the adjustment has certainly been worth it!   Accounting for every cent gives us immediate answers to questions we'd have previously  guessed at; questions such as, "can we truly afford this?", "Do we really need this?", or, "Is this purchase in line with our goals"?  We've ditched the habit of spending money (mostly on frivolous things) and   checking our account later.  Now, we stay diligent about the status of our finances, and are always cognizant of what we need our money to accomplish long term.
Even with all of our strides, we are constantly bombarded with financial distractions.   One of  the most prevalent usually comes in the form of the invite; whether it's to attend a party, to go on a trip, or to participate in an activity, we've had to become better at declining (even when we really want to go), if those things are outside of our budget, or longterm goals.  Another financial distraction we try to stay on top of is impulsive, or, emotional shopping– buying a latte' just because we happen to be driving by McDonalds, for example– this is a trap that we do our best to avoid.  Something that's less obvious, but possibly the most fundamental for becoming more financially savvy, was our need to address some of our poor mindsets.  Below, I list the top three ways of thinking that cause limited financial growth, but don't worry, I also give  alternatives for dealing with money more wisely!
Negative Mindset #1—"I'll Put it Back!" 
This sentiment is one of the most detrimental when trying to save .  I remember when I hit my goal of saving a nice sum of money.  It had taken months of consistent discipline and the level of accomplishment I felt was fantastic.  Then came the possibilities: I now had the money to  purchase things I previously couldn't, or to get in on a deal that was "too good" to pass up.  I figured it couldn't hurt to spend a hundred or two on something worthwhile, as long as I quickly put the money back.
The Problem with that line of thinking:  It takes you backwards, instead of ahead!  Money is ridiculously easy to spend, but much more difficult to make.  Getting and doing the things we want is cool!  It feels good; until you realize that the amount you spent on say, concert tickets for instance, albeit a steal, actually took you several months of earnings to save.  Then it takes that same amount of time, sometimes even longer, just to get back to where you were.
The Solution:  There will always be deals, special occasions, and offers that seem too good to refuse, but financial maturity is a must.  In order for your money to grow, it's essential to, make a savings plan and stick to it.  For example, if your goal is to keep $5,000 dollars in a rainy day fund, use only your surplus for non-necessities, and even that should be done only occasionally.  What that means is if your savings balance is $5,031.50, and you and hubby have an impending anniversary , the two of you have just over $31 dollars to share; Get creative!
Negative Mindset #2—"I Deserve this!"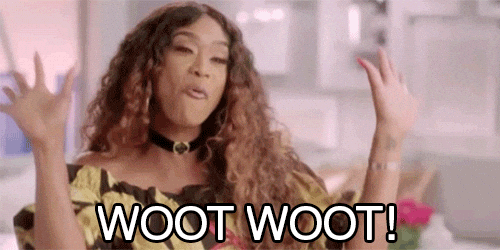 So often, after we've worked hard, been super disciplined, or achieved a certain financial goal, we'll tell ourselves that we deserve a reward.   Something as simple as a frappe, or as lavish as a day at the spa, can seem like an inconsequential expense.  The repetition that results from this line of thinking, however, is what gets us closer to a financial grave.
The Problem with this line of thinking:  You waste money that could be used more wisely.  Early on in our marriage, my husband worked very long hours, which for me, as a stay at home mom, meant equally long days alone with the kids.  Whenever we did get a respite, we splurged on everything from restaurant dinners to weekend trips, telling ourselves, it was our reward.  We did that for years.  Then we discovered how investing even small increments of money over time, could yield far greater rewards!
The Solution: Change the focus from what you deserve, and place it on how much you've earned.  For instance, in luei of treating yourself to a Frappuccino after every grueling day of work, create a reward fund instead and set a goal, i.e.—"I will save an extra $5/a week for three months, to spend on whatever I like!"  Just making this small mental switch can do wonders in becoming more intentional with your finances, instead of throwing money down the drain.
Negative Mindset #3—It's not that much!
This, by far, has got to be the most destructive mindset of the three, because it's ultra-deceptive.  You can really see this concept driven home by creating a habit of saving change.  Once, my husband and I began collecting and saving all of our change over the span of a year.  A time came, after the purchase of our first home, that we were really low on funds, but were in dyer need of a washing machine. We decided to cash in our change for the purchase, which totaled almost $400.
The Problem with this line of thinking:  Far too often we underestimate just how much a penny, a dime, or, "just a couple of dollars" add up over the years.  Sure, it was just a $5 coffee and $3 for the lipstick at the drugstore; after that, though, you chucked $2 into the vending machine at work, before forking over $10 for candy to the neighborhood kids selling chocolate.
To some, $20 just doesn't seem like a big deal, here is a concept that might change their mind: According to Fool.com, by saving the same amount that some people casually spend in a day ($20 for instance), every week, over the span of 45 years, a person could yield a whopping $331,553 (through investing and earning compound interest)!
The Solution: Now, I get it, going cold turkey off of coffee is just a deal breaker for too many, and, of course, supporting the neighborhood kids is a noble deed; nonetheless, technology has made it easy to make coffee greatness at home and your child solicitors would still be happy with your purchase of five candy bars as opposed to ten.  What it comes down to is simply having a healthy appreciation for money, regardless the increment.  Even pennies add up over time!
Now, we want to here from you!  Tell us below how If you've also struggled with your finances, and what you are doing now to make better financial choices?